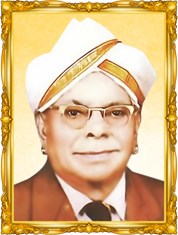 The founder Padmabhushan Sri. N. Ramaswami Ayyar was born on 30th October 1896 at Pinnavasal, a small village in Lalgudi taluk, Tiruchirappalli district. He was the third child of Sri. Natesa Ganapadigal, a vedic scholar. Sri. N. Ramaswami Ayyar built up a lucrative career as a lawyer. His professional success brought him to the forefront of public service. His contributions to the District Flood Relief Committee (1925), Discharged Prisoners Aid Society and Indian Red Cross Society earned him the titles Rao Sahib (1932) and Rao Bahadur (1938). Sri N. Ramaswami Ayyar was inspired by Maharishi Karve, the founder of the first university for women in India.
He also wanted to contribute to the much neglected field of women's education. With the goal to provide modern education in the background of Indian Tradition and Culture, he started Savitri Vidyasala Hindu Girls' High School in 1938. Financial resources and public transport were hard to come by. The founder wrote about this phase of his life as follows: "It was a case of running after money for the institution all the days in the month and all the months in the year".
In 1951, he started Seethalakshmi Ramaswami College to provide university education for the students who passed out of Savitri Vidyasala. The founder built up the physical facilities gradually with practical wisdom combined with idealistic zeal. The government of India recognized his services in the field of women's education by conferring on him the title, Padma Shri in 1962 to be followed by Padmabhushan in 1971.
The founder gave the society very much more than what he got from it. He donated all his property, land and money in addition to precious resources like his time and energy. The inheritors of his legacy stand to gain by his total involvement in his work.